Conus priscus †††††††††† (Martin, 1931)
<![if !supportEmptyParas]> <![endif]>
<![if !supportEmptyParas]> <![endif]>
Descrizione.
<![if !supportEmptyParas]> <![endif]>
Eine doppelkonische, zur Eiform neigende Schale; denn die Sehlusswindung hat konvexe Profillinien und ist hinten stark abgerundet; vorne ist sie nur wenig zusammengeschniirt. Das Gewinde besass anscheinend sieben Mittelwindungen. Seine Profillinien sind sehwach konkav, da nur die Spitze ein wenig vorragt; die Suturen scharf ausgepragt. Das Embryonalende ist unbekannt. Die ganze Oberflache der Schale ist mit kraftigen Spiralbandern bedeckt, welehe durch Zwischenraume von gleicher Breite mit dies en voneinander geschieden sind. Am Gewinde kommen drei dieser Bander auf je einen Umgang, wobei zwei die Nahte begleiten.
Eine nur noch in Spuren erhaltene feine Langsstreifung bedeekte das ganze Gehause.
<![if !supportEmptyParas]> <![endif]>
Lange des einzigen Exemplares 16 mm.
Fundort: Kali Puru
---
<![if !supportEmptyParas]> <![endif]>
A biconical shell tending towards an egg shape; for the final whorl has convex profile lines and is strongly rounded behind; in front it is only slightly laced together. The thread apparently possessed seven mean turns. Its profile lines are slightly concave, only the tip protruding a little; the sutures sharply pronounced. The embryonic end is unknown. The whole surface of the shell is covered with strong spiral bands, separated by spaces of equal width with these. On the thread, three of these bands come on each whorl, with two accompanying the seams.
A fine longitudinal stripe, only preserved in traces, covered the entire housing.
<![if !supportEmptyParas]> <![endif]>
Length of the only specimen 16 mm.
Locality: Kali Puru
†††††††
<![if !supportEmptyParas]> <![endif]>
<![if !vml]>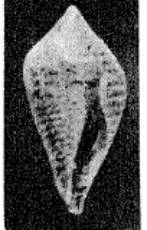 <![endif]>†<![if !vml]>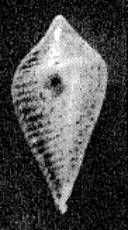 <![endif]>
Conus priscus
HSGI
Tav. II† - fig. 3
mm. 16
Upper Eocene Ė †Nenggoelan beds
Kali Puru - Java
<![if !supportEmptyParas]> <![endif]>
<![if !supportEmptyParas]> <![endif]>
<![if !supportEmptyParas]> <![endif]>
<![if !supportEmptyParas]> <![endif]>
<![if !supportEmptyParas]> <![endif]>
---
Bibliografia
<![if !supportEmptyParas]> <![endif]>
<![if !supportEmptyParas]> <![endif]>