Conus (Lautoconus) damianakisi  (Psarras, Merle & Koskeridou, 2022)
<![if !supportEmptyParas]> <![endif]>

Shell description
Large shells (SL max.: 80.02 mm), with smooth, conical spire whorls and spiral cords. Spire whorls straight to slightly convex, with slightly concave outline in early spire whorls, straight to slightly convex in later spire whorls, with smooth to slightly elevated interactions of spire whorls, creating smooth, low conical to convex outline. Multiple spiral cords on top of spire whorls, with three to four on early spire whorls, up to ten on late spire whorls. Shoulder rounded. Maximum diameter below shoulder. Suture, channelled, not straight. Subsutural flexure moderately deep to shallow, moderately curved, strongly to moderately asymmetrical (Fig. 40H). Last spire whorl conical, straight. Aperture narrow, fasciole small, slightly twisted. Spiral grooves near anterior part of last whorl. (1).
<![if !supportEmptyParas]> <![endif]>
Description of colour pattern
The colour pattern on the spire whorls consists of thin flammulae, frequently very closely related to united, resulting in wide, fluorescent and comma shaped flammulae (Fig. 15, see apical views). The colour pattern of the last whorls consists of two levels of pigmentation. The first one consists of wide, dim-fluorescent spiral bands, interrupted by non-fluorescent, thin spiral, continuous bands or lines. The second level consists of very closely related, fluorescent dashes to continuous lines. The dashes tend to be on an axial synchronization with other spiral dashes-lines. The width of the spiral bands varies, as well as the number of interruptions of the spiral lines. Also, the length of the dashes varies as well, from almost dot-shaped dashes to continuous spiral lines (Fig. 16) (1).
<![if !supportEmptyParas]> <![endif]>
Etymology
Named after Astrinos Damianakis, a private collector from Panassos village, who helped us during the material collection  (1).
<![if !supportEmptyParas]> <![endif]>
Remarks
The characters of the spire whorls and the colour pattern variation differentiate this species from the rest of the studied material. The specimens are similar in morphology (Table 8) to Conus pseudo-textilis Grateloup, var. pliocenica Erünal-Erentöz, 1958. The studied species differs from the variety of Erünal- Erentöz in the slightly concave sutural ramps. This difference is crucial, because the concave sutural ramps is shared between the specimens of Erünal-Erentöz and members of Monteiroconus, but not the members of Lautoconus  (1).
<![if !supportEmptyParas]> <![endif]>
Stratigraphic range
Tortonian of Greece (Heraklion Basin, Crete) (1).
<![if !supportEmptyParas]> <![endif]>
---
<![if !supportEmptyParas]> <![endif]>
<![if !supportEmptyParas]> <![endif]>
<![if !vml]>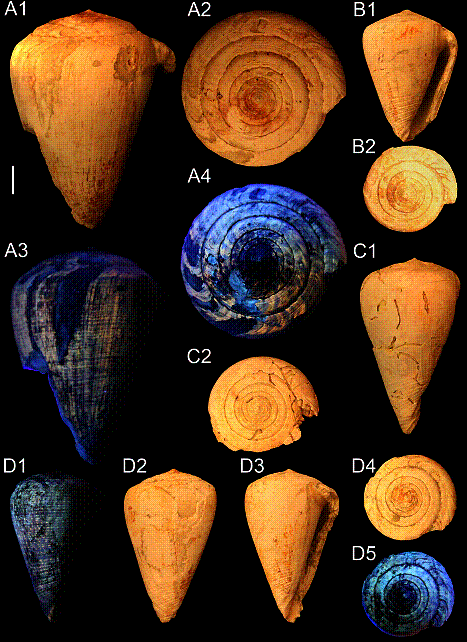 <![endif]>
Fig. 15. Conus (Lautoconus) damianakisi sp. nov. (1)
<![if !supportEmptyParas]> <![endif]>
from Tefeli, Crete (Greece), shown in apertural, abapertural and apical views
under natural (A1–A2, B1–B2, C1–C2, D2–D4) and UV light.
Holotype AMPG(IV) 3802, Tefeli.

Paratype AMPG(IV) 3804, Tefeli.

 

Specimen AMPG(IV) 3806, Crete.

Paratype AMPG(IV) 3803, Tefeli.
<![if !supportEmptyParas]> <![endif]>
Scale bar = 1 cm.
<![if !supportEmptyParas]> <![endif]>
<![if !supportEmptyParas]> <![endif]>
<![if !supportEmptyParas]> <![endif]>
<![if !vml]><![endif]><![if !vml]><![endif]><![if !vml]><![endif]>

Conus (Kalloconus) damianakisi

mm. 49,0 x 30,3

Rethymno a 800 m. s.l.m. – Creta

[AZFC N. 541-01]

<![if !supportEmptyParas]> <![endif]>

<![if !vml]><![endif]><![if !vml]><![endif]><![if !vml]><![endif]>

Conus (Kalloconus) damianakisi

mm. 28,5 x 19,9

Rethymno a 800 m. s.l.m. – Creta

[AZFC N. 541-02]

<![if !supportEmptyParas]> <![endif]>

<![if !vml]><![endif]>

<![if !vml]><![endif]>

<![if !vml]><![endif]>

<![if !supportEmptyParas]> <![endif]>

Conus (Lautoconus) damianakisi (1)

Paratype AMPG(IV) 3803, Tefeli

mm. 59

<![if !supportEmptyParas]> <![endif]>

Conus (Kalloconus) damianakisi

mm. 49,0 x 30,3

Rethymno a 800 m. s.l.m. – Creta

[AZFC N. 541-01]

Conus (Kalloconus) damianakisi

mm. 28,5 x 19,9

Rethymno a 800 m. s.l.m. – Creta

[AZFC N. 541-02]

<![if !supportEmptyParas]> <![endif]>
<![if !supportEmptyParas]> <![endif]>
---

Bibliografia Consultata
<![if !supportEmptyParas]> <![endif]>
<![if !supportEmptyParas]> <![endif]>
<![if !supportEmptyParas]> <![endif]>