Conus tuberacola (Anderson, 1929)
<![if !supportEmptyParas]> <![endif]>


Shell of medium size, probable height of holotype (incom­plete) 54 mm., width 3.4 mm., spire high, concavely turritecl, earlier whorls coronated; last two or three whorls smooth, but slightly excavated above; sides of older specimens smooth, in younger shells the sides are adorned with minute spirally ar­ranged beads, chiefly on the lower half of the shell; aperture narrow. The shoulders of the last whorl sharp and abrupt; lines of growth strongly curved (1).
<![if !supportEmptyParas]> <![endif]>
This shell resembles C. consobrinus Sow., only in sculpture, but is relatively wider, has less strongly developed granula­tions on the sides. It also differs from C. toroensis Olsson in relative width and in form of spire (1).
<![if !supportEmptyParas]> <![endif]>
Holotype: No. 4623, Mus. Calif. Acad. Sci., from Loc. 267, C. A. S., horizon M - N, near base of the Tubera group, where it appears to belong, and where several fair-sized specimens were obtained: Miocene of Colombia. (1)
<![if !supportEmptyParas]> <![endif]>
<![if !supportEmptyParas]> <![endif]>
---
<![if !supportEmptyParas]> <![endif]>
<![if !supportEmptyParas]> <![endif]>
<![if !vml]>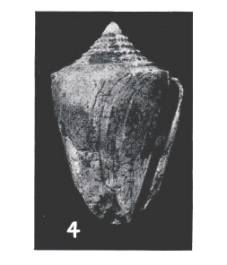 <![endif]><![if !vml]>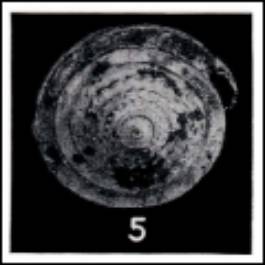 <![endif]>
Conus tuberacola
Plate 9, fig. 4, 5
<![if !supportEmptyParas]> <![endif]>
<![if !supportEmptyParas]> <![endif]>
<![if !supportEmptyParas]> <![endif]>
<![if !supportEmptyParas]> <![endif]>
<![if !supportEmptyParas]> <![endif]>
---

Bibliografia Consultata
<![if !supportEmptyParas]> <![endif]>
<![if !supportLists]>·

<![endif]>
<![if !supportEmptyParas]> <![endif]>
<![if !supportEmptyParas]> <![endif]>
<![if !supportEmptyParas]> <![endif]>
<![if !supportEmptyParas]> <![endif]>
<![if !supportEmptyParas]> <![endif]>
<![if !supportEmptyParas]> <![endif]>
<![if !supportEmptyParas]> <![endif]>
<![if !supportEmptyParas]> <![endif]>
<![if !supportEmptyParas]> <![endif]>
<![if !supportEmptyParas]> <![endif]>
<![if !supportEmptyParas]> <![endif]>
<![if !supportEmptyParas]> <![endif]>