Conus nannus (Woodring, 1928)
<![if !supportEmptyParas]> <![endif]>
<![if !supportEmptyParas]> <![endif]>
Description
<![if !supportEmptyParas]> <![endif]>
<![if !supportEmptyParas]> <![endif]>
Conus (Lithoconus) nannus, new species (Plate 9, Figure 6; Plate 10, Figure 1)
<![if !supportEmptyParas]> <![endif]>
Shell moderately small, moderately slender, spire high, early whorls bearing tubercles on shoulder that gradually disappear on later whorls. Siphonal fasciole slightly bulging. Outer lip rather strongly retractive, anal notch moderately deep. Anal fasciole narrow, concave, bearing obscure spiral grooves. Sculpture of body whorl consisting of narrow obscure spiral threads on basal part.
Length 38.6 mm.; diameter 19.1 mm. (holotype).
<![if !supportEmptyParas]> <![endif]>
C. nannus, like C. ancylus, has a distinctly concave anal fasciole, but the shell is much more slender and has tuberculate early whorls. In shape it closely resembles small specimens of proteus, but the spire is higher and tuberculate, and the anal fasciole is more concave. Small specimens might be confused with small specimens of C. consobrinus, described later, which have stronger body sculpture and the tubercles continue until a later stage. Olsson's Conus cf. interstinctus (Bull. Am. Paleontology, vol. 9, p. 220, pl. 6, fig. 12, 1922) has only a slightly concave anal fasciole and stronger body sculpture.
C. cedonulli Hwass, a living West Indian species, has more persistent tubercles and a flatter anal fasciole.
<![if !supportEmptyParas]> <![endif]>
This species is represented by 20 specimens in the Henderson collection. Many show narrow widely spaced spiral bands of brownish blotches and larger blotches on the shoulder and spire. By some strange juggling specimens in the Guppy collection are labeled "types" of C. recognitus Guppy, though the actual type of recognitus is a Dominican shell and the Bowden species described by Guppy as solidus (later changed to recognitus) is a different species here described as C. apium. The type specimen of nannus was included by Guppy in the so-called "types" of interstinctus in his collection.
<![if !supportEmptyParas]> <![endif]>
Type material.—Holotype (U. S. Nat. Mus. No. 369611, one of Guppy's "types" of C. interstinctus).
<![if !supportEmptyParas]> <![endif]>
<![if !supportEmptyParas]> <![endif]>
<![if !supportEmptyParas]> <![endif]>
---
<![if !supportEmptyParas]> <![endif]>
<![if !supportEmptyParas]> <![endif]>
<![if !supportEmptyParas]> <![endif]>
<![if !vml]>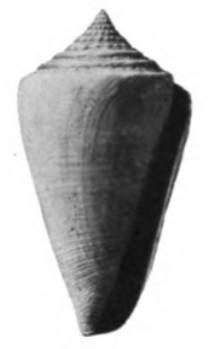 <![endif]><![if !vml]>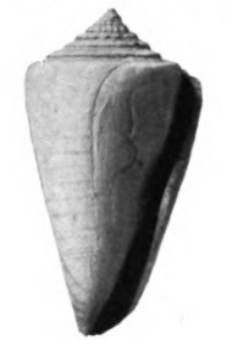 <![endif]>
Conus nannus
mm. 38,6 x 19,1
<![if !supportEmptyParas]> <![endif]>
<![if !supportEmptyParas]> <![endif]>
<![if !supportEmptyParas]> <![endif]>
<![if !supportEmptyParas]> <![endif]>
<![if !supportEmptyParas]> <![endif]>
<![if !supportEmptyParas]> <![endif]>
<![if !supportEmptyParas]> <![endif]>
---
Bibliografia Consultata
<![if !supportEmptyParas]> <![endif]>
<![if !supportLists]>·

<![endif]>
(1) - Woodring, W. P., 1928. Miocene mollusks from Bowden, Jamaica, pt. 2
<![if !supportEmptyParas]> <![endif]>
<![if !supportEmptyParas]> <![endif]>
<![if !supportEmptyParas]> <![endif]>
<![if !supportEmptyParas]> <![endif]>